2017 MASTERCARD MEMORIAL CUP REMEMBRANCE GARDEN DEDICATION CEREMONY HELD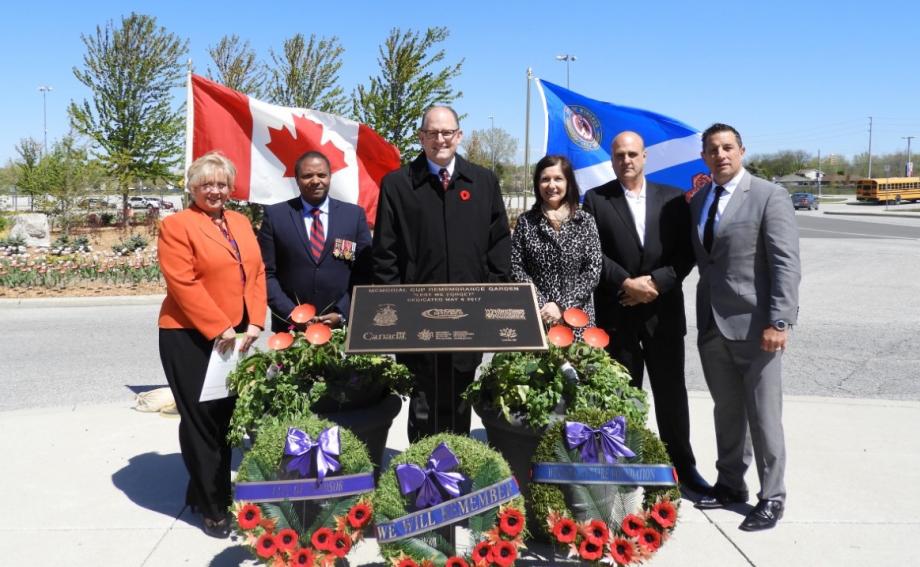 2017 MASTERCARD MEMORIAL CUP REMEMBRANCE GARDEN DEDICATION CEREMONY HELD
Posted May 09, 2017

(Windsor, ON) - In an emotional and inspirational event, the Memorial Cup Remembrance Garden Dedication Ceremony was held Monday at the WFCU Centre in Windsor.
The Remembrance Garden is in the roundabout leading into the facility where the 2017 Mastercard Memorial Cup will be staged May 18th to May 28th and is one of several legacy projects. The project connects youth with the military and ties directly to the origin and the name of 'The Memorial Cup'.
Monday's ceremony included elementary school children singing and reading poems, tributes to fallen soldiers, a wreath presentation, comments from Windsor Mayor Drew Dilkens and a flyover by vintage planes from the Canadian Heritage Aircraft Association. A monument and benches were unveiled adjacent to the roundabout, a permanent reminder of veterans who served our country in times of war, military conflict and peace and those who have lost their lives during war and other military engagements.
The Garden is maintained by City of Windsor horticultural staff and predominately features tulips, an acknowledgement of the symbol they have become for the Canadian Military since World War II.
The Memorial Cup Remembrance Garden project was initiated by the Windsor Spitfires Foundation, represented by Windsor Spitfires President Bob Boughner, in conjunction with funding partners the WindsorEssex Community Foundation.
"The WindsorEssex Community Foundation (WECF) is proud to support the Memorial Cup Remembrance Garden through the Community Fund for Canada's 150th—a national grant initiative with a local focus—in partnership with Community Foundations of Canada, the Government of Canada " said Executive Director Lisa Kolody. "The WECF is pleased to fund this project as we commemorate Canada's 150th anniversary of Con-federation and what it means to be Canadian".
For more information on this release please contact 2017 Mastercard Memorial Cup Host Organizing Committee Event Manager Steve Horne at shorne@windsor2017.com or 519-254-5000 x250.
Full event details are at www.mastercardmemorialcup.ca